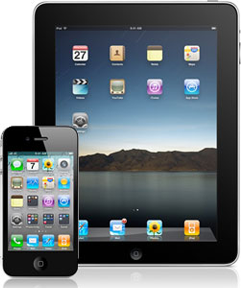 iPhone | iPad Development
Your customers are already using iPhones. The company sold 37.04 million iPhones in Q1, 2012. Let your customers choose the most convenient way to access your company information and make it easy for your customers to find you in a variety of formats and technologies.Read More
Mobile Applications Liberating Healthcare

Clinical Pearl – a CME (continuing medical education) provider company in New Jersey contacted Ephlux to develop and maintain Mobile Applications to liberate its network of physicians from their desktops.
Avi Millman – CEO, Stray Boots
Ephlux provides New York based Stray Boots with web application and software development, maintenance and support services for their innovative and interactive travel and tours platform.Read More
Mark Heninger – CEO, Taurad LLC
You hear all the time about the bad experiences people have when outsourcing to India, Pakistan, China or Russia. Outsourcing to Ephlux will change your opinion and expectations.Read More
Web Presence for Financial Trading and Research Company

Ephlux equips a rising British Financial Trading and Research Company with state of the art technology, building a competitive web presence ..

Partner-of-choice for a US based powered stereo manufacturer!

When a manufacturer of powered stereo speakers in California wanted to revamp their ecommerce strategy we were their partner-of-choice!

Microsoft Surface Tablet launching on October 26th

Microsoft Corp. has announced the launch of its own Windows-powered tablets called Surface is launching on October 26th, 2012.